Upcoming Seminar
"From AIDS, COVID-19, Ebola, to the ZIKA virus... It seems like every year we witness the emergence of a new and potentially devastating viral threat. Unfortunately, with these renegade infectious agents come the unfortunate population-based side effects of panic, fear, and uncertainty. The solution? The Bible tells us that "a prudent man foresees the evil and hides himself" (Proverbs 22:3). Take the anti-viral initiative today! This exciting new seminar series focuses on optimizing immunity and increasing awareness of the efficacy of healthy lifestyle choices and simple natural remedies in the face of current and emerging viral illness. Experience wellness worth sharing... Go Viral today!"
"An innovative and dynamic speaker specializing in the areas of prevention and wellness, Ron Meinhardt retired from clinical nursing over twelve years ago, dedicating his talents to health evangelism and volunteering his time at various self-supporting health institutions. He is also founder and executive director of Entering Wedge Media and Healthislife.org (a multifaceted organization focusing on primary health education and evangelism). Ron also happens to be the principal author the widely distributed: Amazing Health Facts Magazine."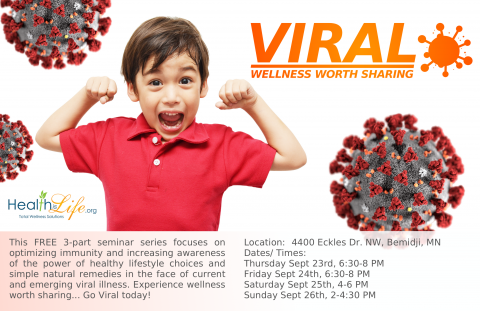 ---
Welcome to the Bemidji SDA Church in Bemidji, MN. We are a Christian community and would love to have you join our family. To learn more about what we believe you can visit our About Us page. Please join us for Bible study, worship, and prayer.
Pastor Joel Kratzke
Bemidji SDA Church
Join Us This Saturday
Service times:
Sabbath School: 09:45AM
Worship Service: 11:00AM